Solutions for your business success.
Branding

&

Identity
Our Creative Team is Built for Your Success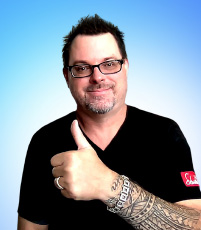 Hello! I'm Sebastian Sindermann, the founder and the driving force behind Sebastian Solutions. 
There's no shortage of great creative agencies out there, but what sets us apart is professionalism. Sure, we love being creative, but business comes first. 
I personally bring 30+ years industry experience and my team of creative professionals adds countless more.
Furthermore, I personally oversee each and every project to make sure things are done right, on time, and on budget. By having a hands on approach, you can always be sure that I personally have a stake in your success and so does my team. In short, your success is our success.
We also know that communication is key. You'll get an estimate right from the start with no hidden surprises. By setting a detailed timeline and keeping in touch with you every step of the way, we ensure things are done right. 
Most of all, we work hard to make you happy and satisfied with the results. Not only is it the right thing to do, but just good business. When you're happy, you'll come back to us for future projects and also refer us to your colleagues, friends, and family.
My team and I can't wait to work with you to make your business a success!
Making you happy, makes us happy.
Sure we all love success, which makes us happy on the business side of things. That said, we also believe in honesty and happiness on a personal level.
We don't just sell you something and off you go. It's not the right way to do things. 
We've heard too many horror stories from folks coming to us because they had a terrible experience with another creative agency or artist. From getting charged more than what was agreed upon to deadlines being missed, your files being held hostage, and just plain incompetency. 
Our core philosophy is always to make you happy, because at the end of the day that's what makes us happy.
Our Winning Creative Process
As you probably know, there's a lot that goes into good branding and marketing, but it doesn't have to be rocket science, nor break the budget. 
The fundamental principles for achieving success are the same whether you are a small business or a large corporation. Whether you're selling products, providing services or creating content. 
With a consistent track record, our process follows a three step process…

We Analyze
By understanding the market and customers you serve, we develop a winning strategy.

We Plan
A strategy is only good when it meets timelines, budgets, and successful implementation. 

We Create
With the foundation set, we create your unique branding and marketing for success.
Whether you're ready to get an estimate for your project or just need some free friendly advice, call/text us at 1-858-500-5008 or send a message today!